RULES AND GUIDELINES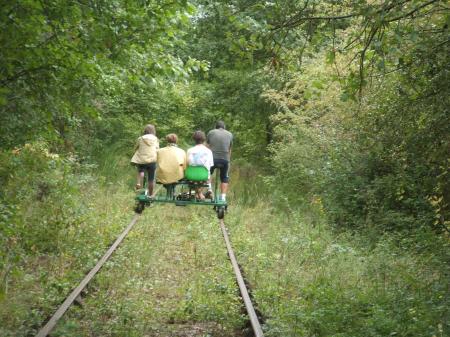 RAILBIKING IN THE CHARTRES COUNTRYSIDE (Rail Bike)
A group of dedicated volunteers is clearing and maintaining a very scenic stretch of disused railway line, to enable the sport of rail bike to be practiced.
Your rides begin at the railway station at Pont-sous-Gallardon and travel along the rails to Coltainville. This is a beautiful area of farmland and woods very close to Chartres and less than 1 hour from Paris.
The railway track we use for rail bikes is part of the SNCF rail network and may one day be back in service.
You must call to reserve a ride: Phone 09.54.40.00.00 (local phone price).
The 2018 season will start on Saturday march 31st, to sunday November 4 th.
In May, June, September and October: We are open on saturday and sunday.
In holidays of April: Wednesday, saturday & sunday.
We'll be open from saturday june 30th to sunday september 2nd 2018: Every day.
There are 10 engines available. You must arrive 15 minutes prior to departure for a safety briefing or your reservation will be cancelled. Departures at 11 h AM, 2 h PM, 4 h PM, 6 h PM (before end of August).
Because there is only a single track, all the engines must leave at the same appointed time, keeping a distance of 50 meters between them. At the turn around point the rail bikes are easily turned on the track. When the last macvhine has been turned, they all depart for the return journey. The total journey is about 1 hour 45 minutes. One hour outbound and 45 minutes for the return journey.
Leaving the station at Pont-sous-Gallardon, you will run on the single track, bordered by trees, and which rises gradually from the valley of the Voise to the plateau. The track passes close to the glider airfield of Bailleau-Armenonville with a good view of the buildings and activities. On the open plain of the Beauce you glide along gently to the two platforms of Senainville station. Chartres Cathedral is visible between a row of hedges. The rails seem to point directly to the towers of the cathedral. In the beautiful open wheat fields, you turn your rail bike around for the return journey.
Discover a world of peace and quiet that is normally out of bounds to hikers and theoretically reserved only for train drivers. You will perhaps encounter animals.
Is biking good for your body? The answer is yes! The rail bike has the added advantage of being off the roads and free of the dangers of passing automobiles.
The outward journey is a steady, gradual incline that you can feel in your legs. You will be rewarded with an effortless return journey for a total ride of 13 km.
There is plenty of parking for your car in front of Pont-sous-Gallardon station.
Children under 6-7 are not allowed to pedal. They are welcome to ride in a safety seat. We suggest that they be dressed warmly because they will not be exercising during the journey. Please keep the children on the velorail. Do not run or walk on the tracks and please do not make too much noise.
Warning: Pedalling a rail bike is a physical activity for people pedalling. It is not recommended for people with a heart condition or other counter-indication for physical activity. It is the sole responsibility of the participants to heed this warning.
The altitude at the departure point is 120 m. and the turn around at Senainville is 150 m. For that reason we recommend that two adults pedal the machine and with a maximum load of no more than 4 persons (5 if there are 3 children).
This is an activity that attracts an interesting and friendly group of historians, train buffs, nature and fitness lovers, explorers, and families.

For safety reasons, different rules must be applied to avoid accidents and safety problems:

It is forbidden to walk or run on the tracks.
Rail bikes are designed to carry maximum: 3 adults and 1 child or 2 adults and 3 children under 10.
Children are not authorised to have a velorail without a responsible adult.
Anyone who disregards these safety requirements will be held responsible in case of accident. They can be refused out of the activity.
You can slow to a gradual stop at any time by pushing the brake toward ground with foot. Keep your hands or legs inside the velorail at all times. In the return direction, the stretch is downhill. In case of rain, be very careful.
Click here to see more details about this train line.
Date de dernière mise à jour : 29/03/2020